"They're not people who loved the neighbourhood for what it was," says Mile End councillor Marie Sterlin.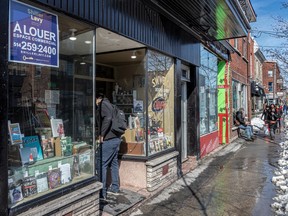 Article content
Shiller Lavy Realties is packing its bags and leaving Mile End — or starting to, at least.
Article content
The real-estate investment duo of Stephen Shiller and Danny Lavy, who stirred up controversy in the neighbourhood over the past decade with their astronomical rent hikes that forced the departure of several beloved local businesses, have put five of their buildings along St-Viateur St. up for sale.
Article content
Tenants in those buildings include S.W. Welch used bookstore, Bishop & Bagg Pub, La Catrina restaurant and Lululemon.
"I guess I'm not that happy about it," said S.W. Welch owner Stephen Welch, who fought a hefty Shiller Lavy rent increase in 2021 and won, with help from outraged Mile End residents.
"They bought (this building) as well as other buildings and turfed out other businesses, now they're selling. It's due to the market climate, I guess. They're business people, that's what they do. It's kind of lousy, but …"
Article content
The building in which S.W. Welch is located, at 221 to 231 St-Viateur St. W., is home to other businesses including the recently closed Laurier BBQ. It was bought by Shilller Lavy in 2015 for $2.7 million and is now on the market for nearly twice that amount at $4.9 million.
Welch's battle earned him a two-year lease extension, which comes to an end this summer. He doesn't expect to be offered another renewal from either Shiller Lavy or the new owners.
"I'm leaving at the end of July," Welch said. "I'll contact them, as I have done in the past, and ask if they want to extend it; but they're not going to want to. Any time you sell a building, it's better if the property is as empty as possible."
Welch would like to stay, "but that's pie in the sky stuff," he said. If it doesn't work out, he will sell his remaining wares and retire.
Article content
It will be a bittersweet ending to a 15-year run in that location for his shop, which operated in three other locations before that. To Welch, Shiller Lavy's departure is emblematic of the rise and fall of Mile End as a commodity.
"When I moved in, it was pretty sleepy around here," he said. "It's funny to think, but there were no parking meters on the street. It was a very different place. I sometimes wonder if stores like mine take advantage of an area gentrifying, move in when the rents are still low and help gentrify it.
"Now it's on the downswing, in my view. Tour groups come by and pause in front of the store, where they probably talk about my fight and the way the community came together to help me stay a while. It's all very interesting, but once I'm gone it will be: 'This is where so-and-so used to be. This is where Cagibi used to be.' Come on. It's kind of dumb. So what is the street now? Where is the coolness that it used to be? It's pretty well gone, expect for the cafés and a few other things. It's not cool anymore. I guess that's the way it goes."
Article content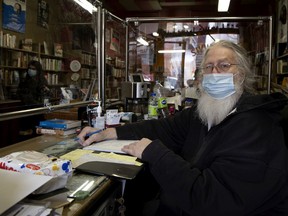 A two-storey building across the street at 210 to 212 St-Viateur St. W., of which the ground floor is rented by QDC Burger, was bought by Shiller Lavy in 2016 for $374,000. It's now selling for $1.475 million.
Over at the corner of Clark St., the complex housing Bishop & Bagg Pub and Falafel Yoni is going for $4.9 million. It was purchased in 2012 for $1.25 million. Bishop & Bagg owners did not respond to a request for comment.
A block away, the building at the corner of St-Laurent Blvd. that was once home to queer-friendly café-resto Le Cagibi is now rented by Mexican restaurant and cocktail bar La Catrina, after sitting empty for a couple years. Bought by Stephen Shiller's son Brandon Shiller and partner Jeremy Kornbluth for $1.3 million in 2015 and sold to Shiller Lavy for $1.5 million in 2019, it's now going for $3.5 million.
Article content
On the other end of the strip, at 266 St-Viateur St. W., is a storefront rented by Lululemon. The yoga and athletic apparel company that to many is a symbol of the neighbourhood's gentrification arrived after the building was bought by Kornbluth and Brandon Shiller for $700,000 in 2014. The building was passed on to Shiller Lavy for $898,000 in 2015 and is now going for $2.5 million.
Reached by phone Wednesday morning, Danny Lavy was not willing to discuss his company's apparent exodus from Mile End.
"You think I'm going to make a comment?" he said. "No. I appreciate it. Goodbye."
Avi Breitman, the real-estate agent for the buildings rented by Lululemon and QDC Burger, wouldn't say why Shiller Lavy decided to sell.
Article content
"I don't think I can share this with you," he said.
Breitman said there has been interest since the buildings went on the market just before the holidays, and he expects them to sell without trouble.
"We've had good traffic," he said. "We've had some offers. I'm not worried."
Even once all five buildings sell, Shiller Lavy won't be completely gone from Mile End. The company still owns at least three buildings along the street, home to businesses including Cantina Emilia and Bar Le Waverly.
Marie Sterlin, Projet Montreal councillor for Mile End, says Shiller Lavy's departure signals the end of a difficult decade for the neighbourhood.
"Shiller Lavy had a devastating effect not only on the commercial fabric but on the social fabric of Mile End," she said. "They're not people who loved the neighbourhood for what it was."
Dunlevy: Artsy Mile End holdout Le Cagibi forced out by rent hike

Mile End bookstore S.W. Welch to remain open following agreement with landlord

On the front lines of Mile End's chicken war