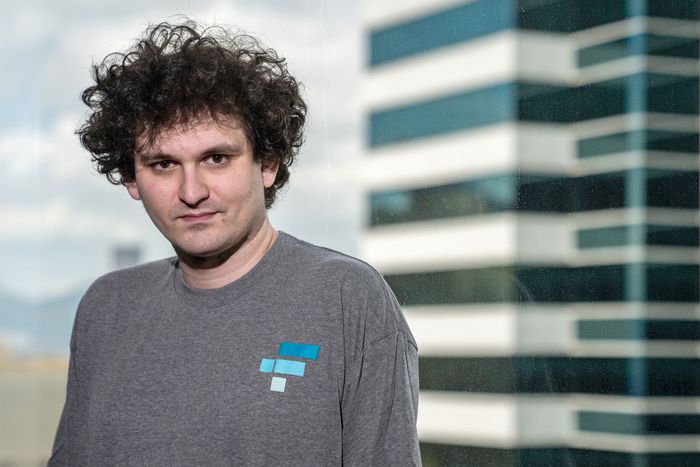 Photo: Lam Yik/Bloomberg via Getty Images
The $32 billion net worth of crypto wunderkind Sam Bankman-Fried has collapsed as a result of the demise of his cryptocurrency exchange FTX and along with it 130 additional companies, his organization's philanthropic arm, (apparently) the life savings of several hundred employees, and some teachers' pensions from Ontario. Of course, as with any sordid financial scandal involving a much-hyped "visionary" disgraced at the height of his powers, the fallout also includes real estate. It took only a few days for a listing to appear for Bankman-Fried's luxury penthouse in New Providence, Bahamas, where he reportedly lived with a "cabal of roommates," suddenly on the market for $39.9 million and boasting ocean views — plus, from the photos, at least, nearly an entire wardrobe still neatly organized in the closet. It appears Bankman-Fried cleared out fast.
But that's just the beginning of a tally that is likely to grow as the true picture of what FTX was doing with its customers' and investors' money comes into view. As reported by the Block, FTX Property Holdings "spent $74,230,193 on property in the Bahamas over 2022," including condos at two different luxury resorts. It recently announced plans to move its headquarters to Miami after opening its Chicago headquarters four months prior. And the company recently opened an office in Tokyo.
Below, we'll keep a running list of FTX real-estate holdings that are hitting the market.
Nassau, the Bahamas
Photo: Morris Adjmi Architects
Much was made in the press earlier this year about Bankman-Fried, despite being a billionaire, living with roommates in this five-bedroom condo in the Bahamas, on the penthouse floor of a luxury building called the Orchid. (Post-downfall, things have become a bit clearer: The group has been described as a "cabal" and also a "polycule.") It has now been listed for $39.9 million.
At 12,000 square feet, the condo is the opposite of Bankman-Fried's well-advertised "monklike" aesthetic. (Bankman-Fried, who was a stock trader before he created FTX and made his fortune in crypto, preached a minimalist, anti-materialist lifestyle — press often mentioned the fact that he drives a Toyota Corolla and uses his parents' Netflix account.) Part of a luxury development called the Albany, owned in part by Tiger Woods and Justin Timberlake, it sits on the yacht marina in Nassau, was designed by architect Morris Adjmi (also responsible for Manhattan's Samsung building and the Wythe Hotel), and has all the amenities one might expect (pool, Jacuzzi, full bar, kitchen island the size of that Corolla). The design aesthetic is aggressively bland (oversize panels of squiggles, black-and-white "art" photography of a Mercedes, and a crystal seashell on a pedestal), which makes more sense when you realize it looks exactly as it did when it was first listed. The only non-staged items seem to be family photographs in some of the bedrooms (too small to make out), plus two posters in the mauve entertainment room: one for a Harry Potter movie, and one for The Dark Knight. (The condo is being sold furnished, so the bland staging furniture could be yours; unclear if the posters will remain.)
The listing inspires more questions than it answers. Like: Is that Caroline Ellison's Harry Potter poster? (She's reportedly a "Harry Potter fan.") If ten people lived here and there are only five bedrooms, where did they all sleep? Did they remove any beanbags from the property?